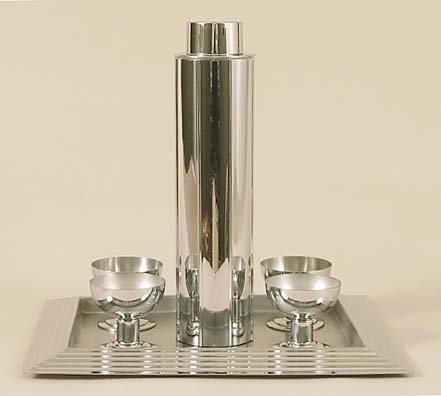 (A) The famed Revere Manhattan cocktail set by Norman bel Geddes. Cups, however, by Mrs. bel Geddes... Oh, well, I've looked for no less than 20 years for a set of original Manhattan martini cups to go with the tray and shaker, but I give up!!! The shaker's in very good condition -- no dents, tiny scratches here and there, some compromise to the chrome (it's been used). The tray, near-mint. The cups... let's just say I'm throwing them in so that you won't have to drink out of the shaker. And by the way, there are six cups, not four as shown.
Norman's fine set now residing in Spain, at Adolfo's! SOLD!!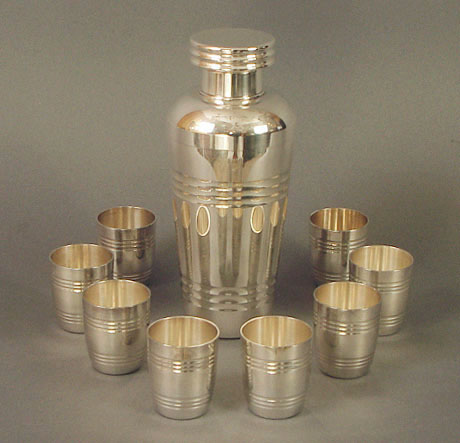 (B) How could I resist comparing the famed Bel Geddes set with a top-notch, though generic, French cocktail shaker and 8 cups, trouble-maker that I am!? A primary difference between the two sets is their finish -- chrome for the Americans and silver-plate for the French. The American set can go eons without attention, but the French set needs silver polishing with some frequency. Ah, does this give us a clue about how they live and about how we live? Does anybody in your house wear a French maid's outfit (outside the bedroom)? Well, it all comes down to one's individual sense of design excellence, doesn't it -- that is, after that sticky question of who's going to polish the damned thing is settled. (e-mail Jack for a price)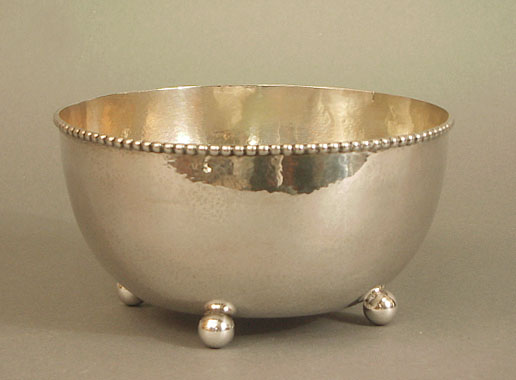 (C) Our 800 silver bowl has the simplest Moderne styling; it's about 6 inches across. Remember "less is more?" Well, what's stopping you?! I suspect it's Austrian, what with the hand hammering and the 800 mark. There is a hallmark, but it's impossible to decipher. (e-mail Jack for a price)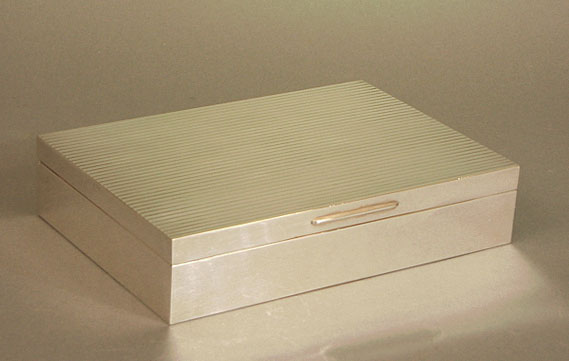 (D) This box is nicely hallmarked, but do I look like I know everything? I bought it in France, that much I know! And, it's got the heft and quality of construction of -- gasp! dare I say it?! -- a bauble turned out by that Cartier joint. I mean, hey, I just saw the Cartier exhibit here in San Francisco, and what can I tell you, I could make that stuff with one hand tied behind my back. Uh-huh... Well, getting back to this box, I'd say it's about 9 inches across. Or so. (e-mail Jack for a price)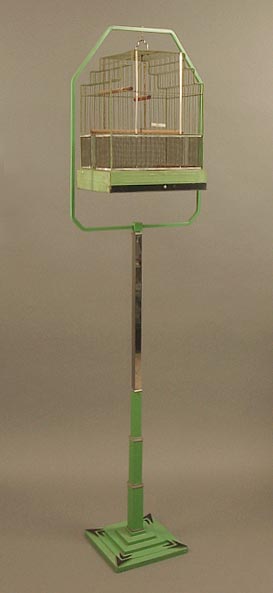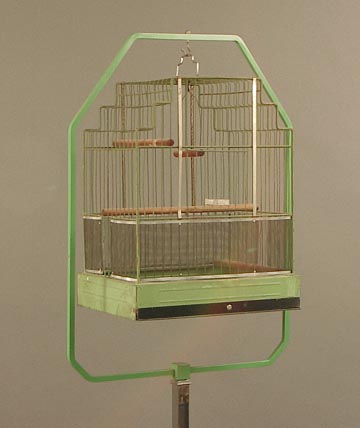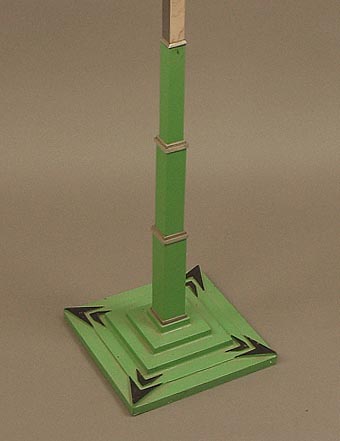 (F) Yessiree, pretty special! And where else are you going to find this sort of Art Deco excellence but DECORUM?! The base is heavy enough to park an eagle inside the cage, but he'll eat you out of house and home, so I'd suggest a canary, particularly since the yellow feathers would go so nicely with the green patina.
SOLD and on its way to Miami, chez Troy!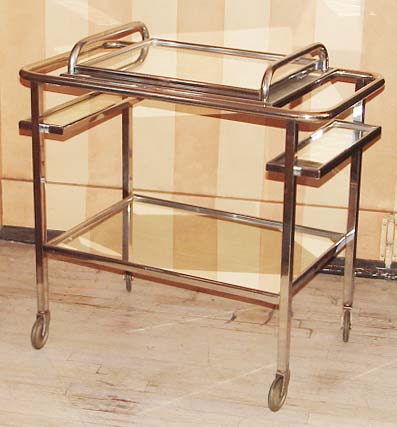 (G) Rolling bar, French, Ca. 1930. The tray lifts off for serving, a mirrored work area is under it. All chrome-plated brass with the exception of the round tube at the top, which is chrome-plated steel. Bottles sit on the two smaller mirrors on the sides. Dimensions: 29 1/2 high, 30 wide, 17 deep.
GONE but not forgotten! SOLD! (Other bar carts available, see below....)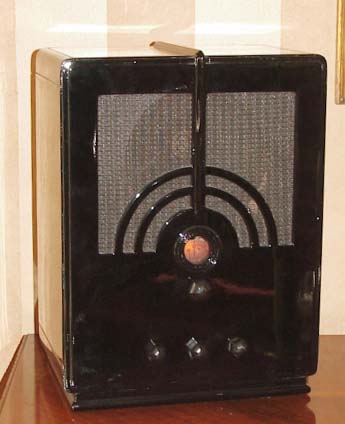 (H) Table-top black lacquered radio, Ca. 1935, American. Interior parts restored (it plays), front fabric replaced. Dimensions: 16 1/2 high, 12 1/2 wide, 9 deep. (e-mail Jack for a price)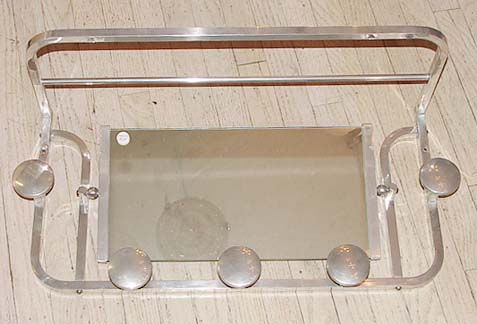 (I) Aluminum "wall tree," with swiveling mirror, French. Dimensions: 24 1/2 wide, 13 high, 9 deep. These are divine in a bathroom, on the wall -- a great storage place for a few towels or washcloths, above, and good for hanging towels or bathrobes, on the "hooks." I have a fair number of these in various manifestations, and different materials, such as chromed brass, even wrought iron.
This one's gracing Shannon's New York City apartment, but you can find others on my site under "I call 'em 'wall trees.'"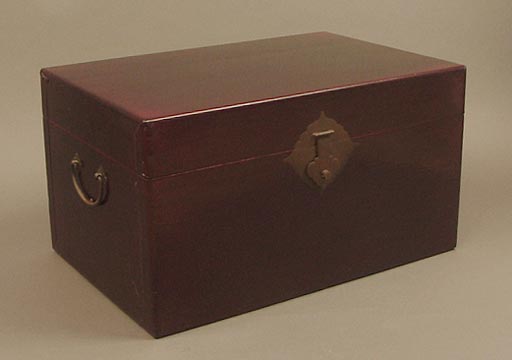 (J) This doesn't have a whole lot to do with Art Deco but in its simplicity it certainly won't antagonize the rest of your Art Deco collection. It's a Chinese lacquered pigskin trunk of course, in superb condition, and ready to serve one of a thousand possible uses -- for example, as a place to stack and store your Chase collection! (e-mail Jack for a price)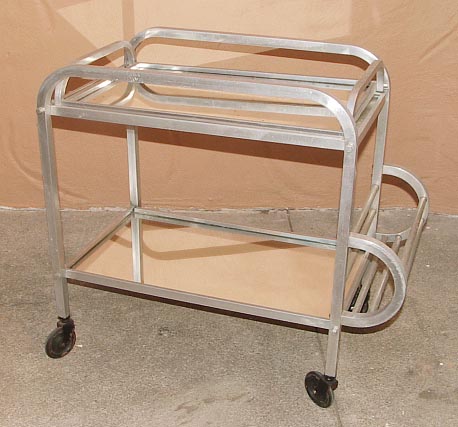 (K) This solid aluminum cocktail cart has got the look, with its squared tubing and mirrored surfaces. The tray on top lifts off for easy delivery of the drinks you've just mixed. Of the rolling aluminum French bars, this one is probably the most visually splendid. Wheel this baby around your living room and just feel those Depression Blues dissolve... (e-mail Jack for a price)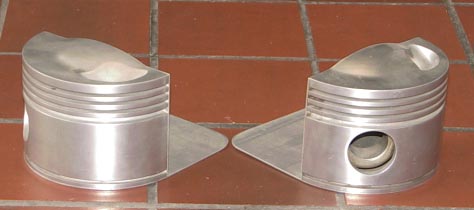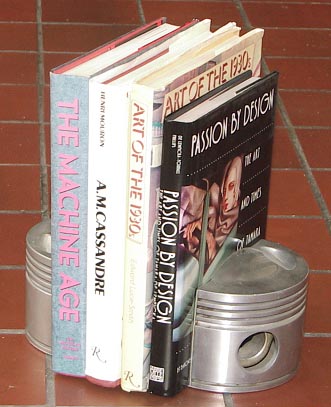 (L) And speaking of aluminum, how do you like these bookends? Your guess, from an airplane or tractor? (e-mail Jack for a price)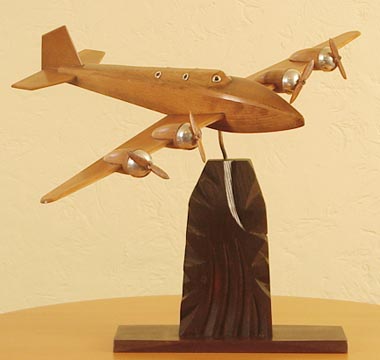 (M) Don't you love the stylized mountain our plane is flying over? It's got a wingspan of about 16 inches. (e-mail Jack for a price)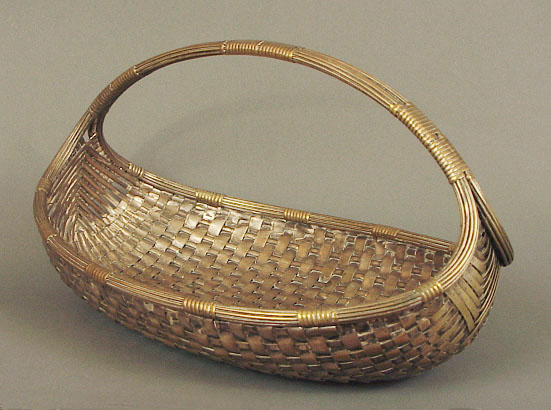 (N) There's more metal running through my veins than blood, so this woven, solid brass (originally either nickel or silver-plated) panier gets me right where I live. Constructed as a bread basket, it can be used to hold fruit, or flowers, or....? It's about 14 inches long and 8 high. (e-mail Jack for a price)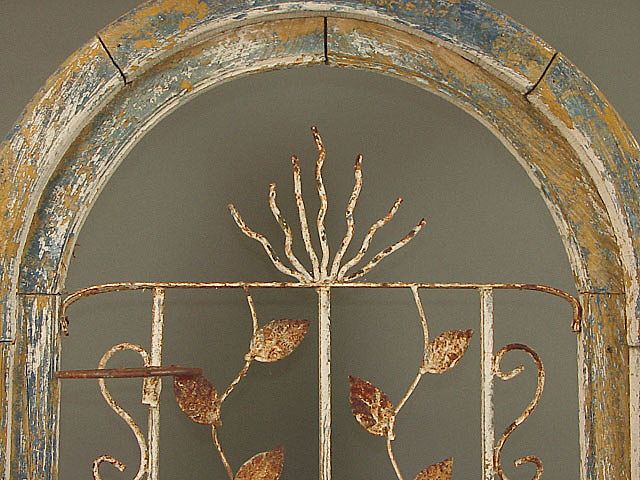 (O) Well, I could just go on and on about this "window" -- or whatever you'd like to call it. The pictures say it all, really, and they don't lie! The patina, from the rusted leaves to the rust, blue, and white colors which are hanging onto the wood frame for dear life, is, as I've put it above, "delicious." It measures 39 tall and 26 1/2 wide, which means it has formidable presence. I could so easily see this on a wall, inside the house, of course, all by its lonesome, maybe with two terracotta pots holding cacti...?? Why not!!! The opening of the two pot holders, by the way, measures about 4 1/4 inches across. And, in typical European style, they just lift out of their holders on the decorative part of the wrought iron. Then there's that explosion of sun rays in the center at the top! A decorator's dream come true?(e-mail Jack for a price)