(F) And speaking of Consolidated, here's a husky 10-inch opalescent vase, which was drilled on the bottom to create a table lamp base. I have the carved wood Chinese base which was used with it when it was a lamp. All of which is to say, unless you have a wad of hole-plugger, you won't want to use this for a vase!
Caroline took a shine to this one! SOLD!!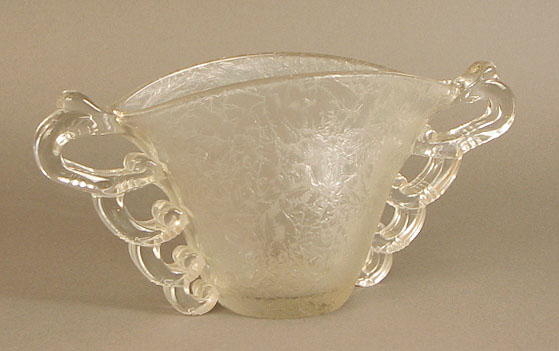 (G) The photo victim this time is an acid-etched vase purportedly designed by the great Pierre d'Avesn. It's 6 1/2 tall, 14 wide.
I THINK it's sold, but I'm not sure; it could be buried in a box!!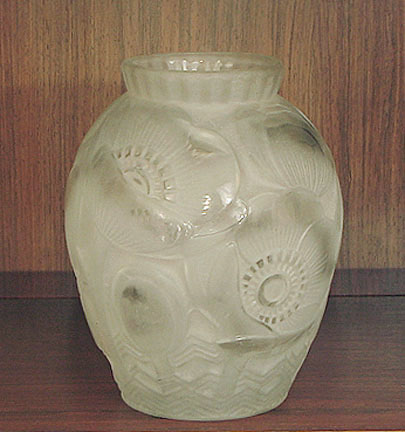 (H) And, speaking of the grand maitre, Monsieur D'Avesn, here's a stunner by Da Man, surrounded by rosewood, of course. Bold anemones float above a tantilizing geometric motif. It's about nine inches tall and heavy, the way we like -- and expect -- our French glass. (e-mail Jack for a price)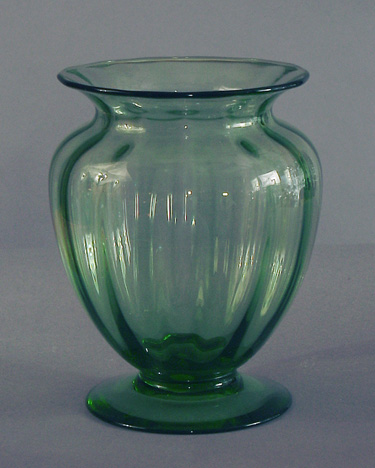 (I) Similar to Steuben quality, the glass having crystal-like clarity and uniformity of color. A pleasing shape with presence! It's 9 1/4 inches tall.
This was a great find, for me and the person who is now enjoying it! SOLD!!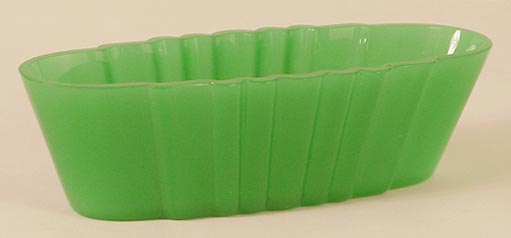 (J) And why not throw a luscious Steuben jade bowl in with the French vases? This one measures 12 1/2 long, 4 1/4 wide, and 3 1/2 high. There's a two pin-head sized chip on the rim, otherwise it's perfect, and eminently suitable for Ikebana.
TA-TA for now, Monsieur Steuben! SOLD!!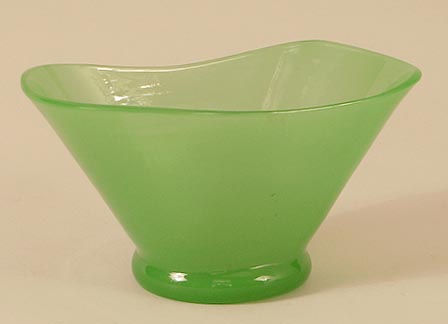 (K) Another Steuben jade vase, an intriguing oval shape, about 5 tall and 9 1/2 wide, this one a little fainter in color than the other.
Another goner; SOLD!!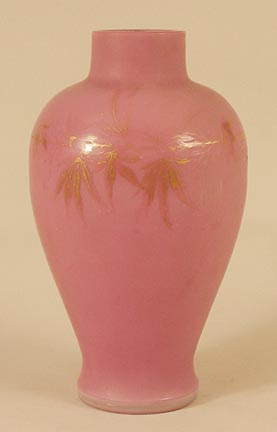 (L) And while we're touting Steuben, why not include this important example in the lineup? It's no less than 15 1/2 inches high and nine wide, and very heavy! I believe the color is referred to as "rosaline...?" The gold fern leaves are a little worn, but their beauty remains intact. (e-mail Jack for a price)
(M) Another Czech departure from the staid, the predictable, the traditional! Just over 8 inches of creativity.
You think this would stick around, looking like THAT?!! S0LD!!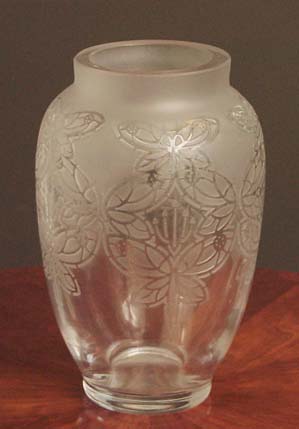 (N) MUCH prettier to the naked eye than in this abysmal photo, this deeply etched French vase weighs seven and a half pounds!! That's a lot of hamburger! Perfect condition, 9 1/2 inches tall.
"Heavy," Daddio! SOLD!!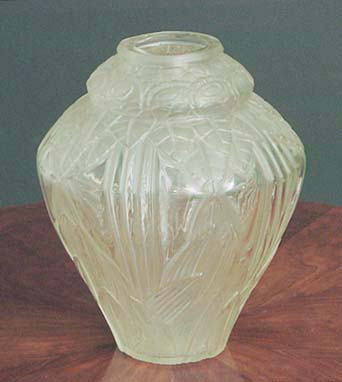 (O) A design masterpiece by Andre Hunebelle -- one of my all-time favorite decorations! Some MORON (oh, excuse my French) drilled it for use as a table lamp base. There's a little chip on the top rim too. Well, the French never let little "imperfections" get them down, can you be forgiving, too, and just let the beauty in? It's 8 1/4 tall. (e-mail Jack for a price)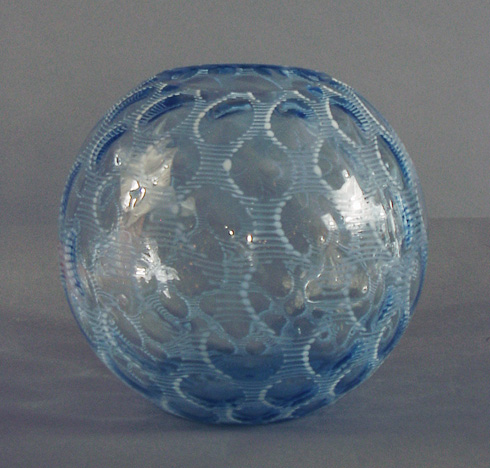 (P) Possibly Czech, this rose bowl is 8 1/2 inches tall and has a wonderful Modernist air about it.
I hope it's holding at least a dozen roses...SOLD!!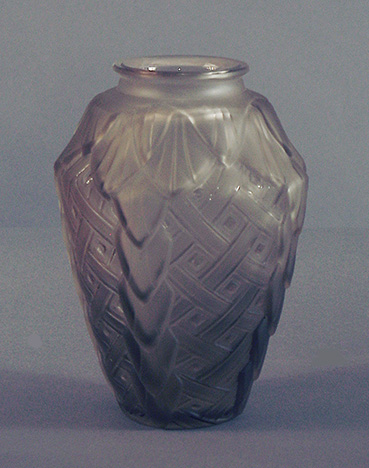 (Q) This smokey vase lives up to the Schneider name in terms of its qualitiy of design and execution. It's just over 8 inches tall. (e-mail Jack for a price)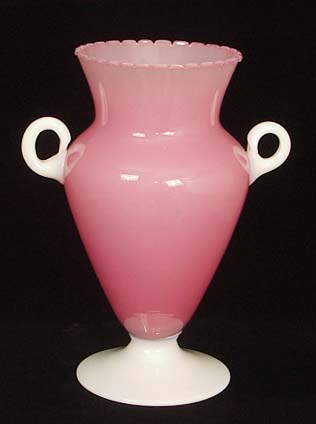 (R) Nothing French about this one! It appears somewhat Steubenesque, but it's not quite up to the quality of the folks from Corning. Fry, probably (you knew that, didn't you?). Oh, well, you can see it's beautiful, can't you? It stands almost 10 inches high.
SOLD!!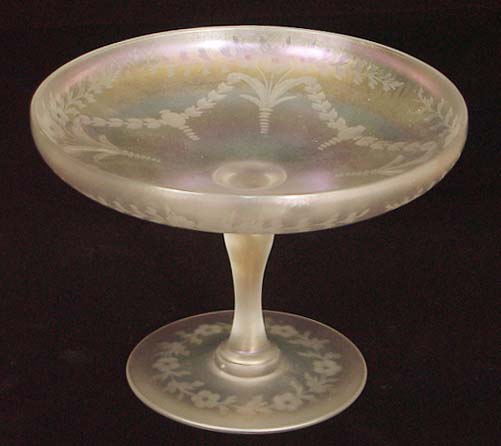 (S) ... is for Steuben, the real thing! This compote is doubtless Hawkes-etched, and the glass itself, verre de soie by Steuben. My favorite finish, this subtle iridescent glow! The compote stands about 5 inches tall, and is in mint condition.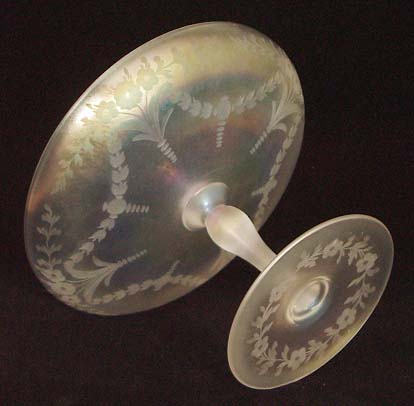 GONE but certainly not forgotten! SOLD!!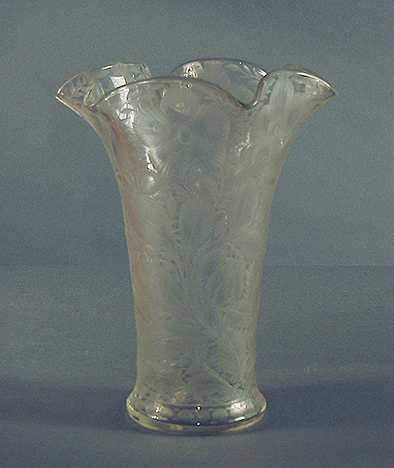 (T) A fin de siecle American vase with flowers and leaves profusely etched. Tall, at about 10 1/2 inches.
SWEET; SOLD!!